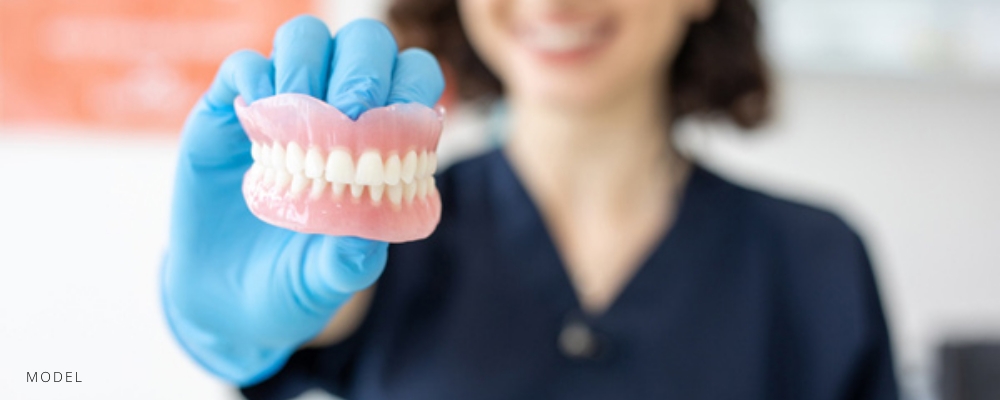 Custom fit dentures feel and look like a patient's natural teeth. By design, they fit comfortably in the patient's mouth and improve the functionality of missing teeth. They are a less expensive appliance than most and are made to fit the exact specifications of the patient's mouth.
What Are Custom Fit Dentures?
Custom-fit dentures rival conventional dentures in several ways. While they are both removable and improve the underlying support to cheeks and lips, with conventional dentures it is necessary to wait for the gums to properly heal before they can be placed. This is not the case in custom-fit dentures. They can be placed immediately and look more natural in appearance. They are based on the exact specifications of the patient's mouth so they will not slip out of place or shift at an inopportune time.
Custom Fit Denture Benefits
There are literally hundreds of shapes, sizes, and shades of color to match the exact tooth structure, size and shape of the patient's mouth. They are able to be made to appear completely natural. This allows the patient to achieve a natural-looking smile to match the contours of their mouth and face. Our team of professionals can help with choosing the correct shade of color for the gums and teeth as well as the appropriate ridge options and the correct texture for the surface of the teeth.
Custom Fit Denture Types
Utilizing the latest in technological advances, custom fit dentures use only the best materials. There are several types of custom fit dentures. Our team will help choose the correct type for each patient's needs.
The first type is the all-on-four bridge which uses four implants embedded into the jawbone on which to place the denture. This is what is known as an implant-supported denture. Making use of mini implants which help the implant retained denture to remain in place, they are designed to improve overall mouth function. These improve the ability to speak, chew and speak.
In some cases, dental implants are secured to the jawbone to provide a sturdy foundation on which dentures can be attached. This is a permanent solution to missing teeth.
Custom Fit Dentures: Maintenance and Care
As with anything if taken care of, custom fit dentures can last for years. They need to be routinely removed and cleaned to stymie the growth of harmful bacteria. They should also be taken out and rinsed after each meal. It is also important to properly brush the dentures as well. They should also be regularly reviewed by our staff to ensure proper fit to avoid any damage to soft tissues.
Professionally manufactured to each patient's measurements, custom-fit dentures provide a great, cost-effective solution to tooth loss as well as a full-functioning set of teeth. Our team at Periodontal and Implant Surgeons of Houston is waiting to discuss the possible options available to you. Give us a call at (713) 785-9599 or use our online form to schedule your office visit and get started.