Tooth loss is surprisingly common and can happen due to a traumatic accident, untreated periodontal disease, or simple dental neglect. When you lose several teeth, it negatively impacts both the function and the aesthetics of your smile. Through a procedure known as the All-on-4® treatment concept, our oral surgeons can restore you to a full, healthy smile using just a small number of strategically placed implants. Periodontal and Implant Surgeons of Houston is proud to provide All-on-4 dental implants to patients in Houston, TX, and beyond.
What Are All-on-4 Dental Implants?
The jawbone of an individual becomes atrophic upon losing the teeth. Multiple tooth loss can occur due to numerous reasons like accidents, and infections, impairing the individual from normal daily activities.
The All-on-4® treatment concept is a prosthodontic procedure introduced to maximize the use of remnant bone in an atrophic jaw and restore the standard function of the mouth. It is a procedure done for the complete upper or lower jaw or, in more severe cases, both jawbones.
The procedure involves four implants' placement on a specific angle, allowing increased contact using the bone's natural support. Periodontal and Implant Surgeons of Houston can provide you with the knowledge and understanding to help you understand All-on-4 dental implants.
All-On-4 Treatment Procedure
Receiving All-on-4 dental implants is a procedure requiring multiple visits. Before starting the process, the oral cavity is examined through x-rays for any potential issues. A CT scan will check the location of the nerves before implant placement. The individual's medical history is also recorded to examine the overall health.
The few remnant teeth of the arch to receive the treatment are extracted, and the gum tissue is allowed to heal completely. Once healed, the implants are placed in the jawbone through another surgery. Implants and titanium abutments, which act as the base of support for the replacement teeth.
It takes at most three to four months for the osseointegration phase to complete and implants to become a part of the bone. As the gum and bone tissue heal, a temporary set of teeth is placed over it for protection and patient ease purposes. The new set of replacement teeth is then securely placed over the implants after the tissues have healed entirely.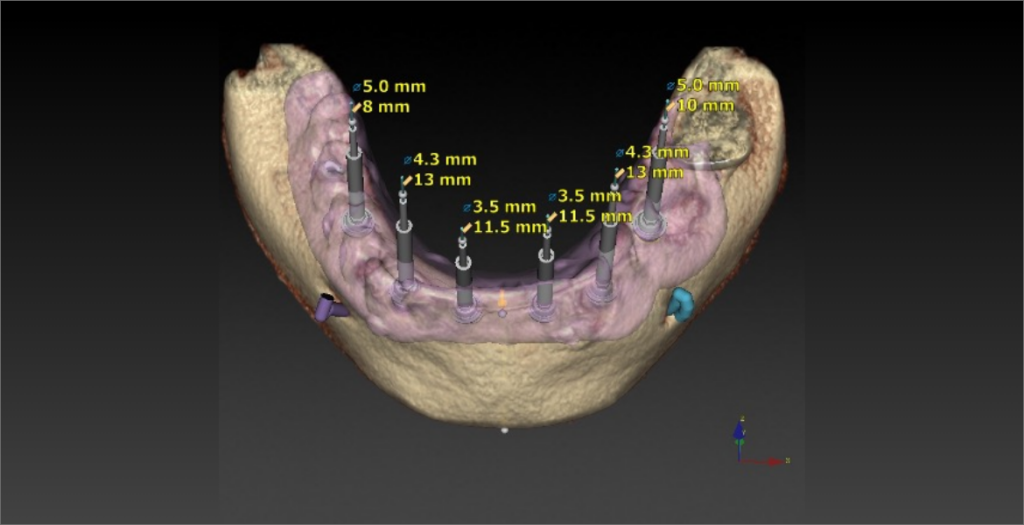 Using state-of-the-art digital information, each All-on-4 case is planned to precisely place implants and deliver functional and esthetic restorations/teeth.
Benefits Of All-On-4 Treatment
The All-on-4 treatment concept is beneficial for severely impaired jaws because of tooth loss. Multiple tooth loss can cause the jawbone to shrink over time, leading to facial structure collapse. This treatment prevents the facial structure from collapsing.
All-on-4 dental implants allow the patient to enjoy all types of foods, including hard, sticky, and chewy foods. They can last for very long periods if cared for correctly. Since they do not loosen, the patient can speak with comfort without slurring.
Aftercare Steps
After getting the procedure, the individual should follow specific essential care steps to avoid damaging the gums and the replacement teeth. Smoking should be entirely quit as it slows down the healing process. Very hot, cold, and sugary foods should be avoided.
For the permanent replacement tooth, the individual should follow strict oral hygiene. They should brush their teeth twice and floss them once every day to avoid bacteria buildup.
All-on-4 Dental Restoration in Houston, TX
If you are missing multiple teeth, you may be a good candidate for the All-on-4 treatment concept, a procedure that can restore your beautiful, confident smile and help you maintain robust oral health. To learn more about getting All-on-4 dental implants in Houston, TX, contact Periodontal and Implant Surgeons of Houston at (713) 785-9599.