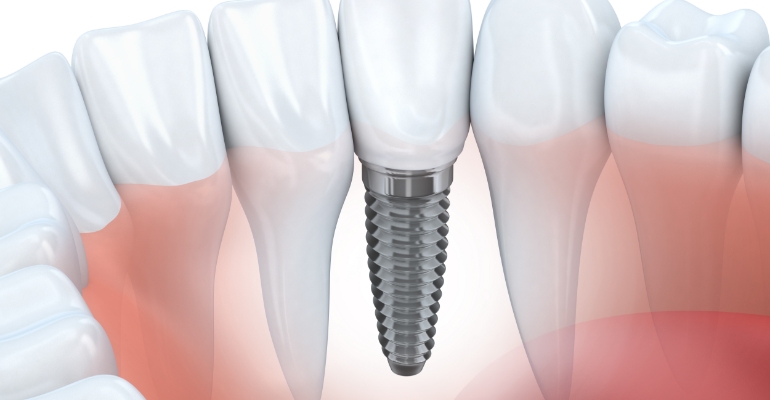 For those with missing teeth, whether one, several, or an entire row of teeth, there are several tooth restoration options available. Some of these options include bridges, crowns, dentures, and implants. The most successful and long-lasting of these options is dental implants.
What Are Dental Implants?
A dental implant is essentially a prosthetic tooth root, made of titanium that fuses with your jaw bone. A dental implant consists of three parts: the implant, the abutment, and the crown. Dental implants are a permanent replacement as the titanium post integrates with your jawbone, making it secure. At Periodontal and Implant Surgeons of Houston we can help you with all of your teeth replacement needs, as we specialize in dental implant surgery.
Some Of The Benefits Of Dental Implants

There are many benefits of dental implants. A few of these benefits include:
Dental implants look like your natural teeth – They look more natural than dentures and are made to look and function like your own teeth.
With dental implants you do not have any diet restrictions – You do not need to worry about your teeth slipping and potentially falling out, like you do with dentures. The implants are held securely in place and allow you to eat all of the foods you enjoy.
There are less office visits with dental implants – After the initial process of having the implants placed, you will only need to come in for regular biannual dental visits. There are no extra visits needed to get your teeth adjusted, as there commonly is with dentures.
Dental implants are long lasting and are meant to last a lifetime. They can last up to 25 years.
Are You A Candidate For Dental Implants?
Are you wondering if you are a good candidate for dental implants? The good news is, most people are. Good candidates include the following.
An individual with good oral and overall health – You do not have any major health conditions that would prevent you from getting dental implants or having oral surgery.
You must be over 18 years of age – When you are younger your jaw is still growing. You must have a fully developed jaw for a dental implant.
You are a nonsmoker or willing to quit smoking – Smoking can greatly slow down the healing process after dental implant surgery. The reason for this is that nicotine narrows your blood vessels that bring oxygen to your body.
You have a strong jaw bone – Even if you do not currently have enough bone mass in your jaw, you can have a bone graft prior to dental implant surgery. This is not necessarily a prevention from getting dental implants.
There is no reason for anyone to continue to feel the discomfort and embarrassment of missing teeth. At Periodontal and Implant Surgeons of Houston we regularly perform dental implant surgery. If you are interested in getting dental implants or finding out if this tooth replacement option is the right choice for you, contact us online or at (713) 785-9599 to schedule an appointment.