The Multiple Tooth Implant procedure is ideal for those patients who have lost more than one tooth. It is also ideal for people that have not only lost their smiles but the ability to correctly chewing.
What most patients do not realize is that a lost tooth is not just a space where a tooth used to be but rather a place where the jawbone can begin to deteriorate. Without proper pressure pushing down on the jawbone during chewing, the bone weakens and can begin to disintegrate. The surrounding teeth on either side of the opening will also begin to shift which can further alter the bite motion. The multiple tooth implant procedure can help with all of those issues. Feel free to contact us at Periodontal and Implant Surgeons of Houston to discuss this procedure with you.
Can Multiple Tooth Implants Really Help?
This procedure is far from merely cosmetic. Although most people only see the space where their teeth used to be filled with artificial teeth, it provides a number of benefits to the patient's overall oral health. A restorative procedure, the multiple tooth implant, can help stop jawbone mass reduction and restrict the remaining natural teeth from moving out of place leading to jaw misalignment and potential TMJ problems.
How Does The Process Work?
It is vital the dental implants have a solid foundation on which to rest. If the jawbone is deemed too weak to support them, bone grafts may be necessary before the implant surgery can proceed.
If the jawbone is considered adequate, then either local anesthesia or general anesthesia can be used to ensure patient's comfort during the procedure. Posts are embedded directly into the jawbone.
It is necessary for the bone to fuse with the dental implant to make sure it will support the additional dental appliances. Once that occurs, appliances such as bridges, crowns, or dentures can be secured to the implants. This restorative procedure is one of the most requested by patients.
Best Candidates For Multiple Tooth Implants
When patients are missing two or more adjacent teeth – whether professionally extracted or lost to tooth decay – the multiple tooth implant procedure is ideal to replace the missing teeth. It is a permanent solution and once completed, provides the patient with a completely natural-looking smile.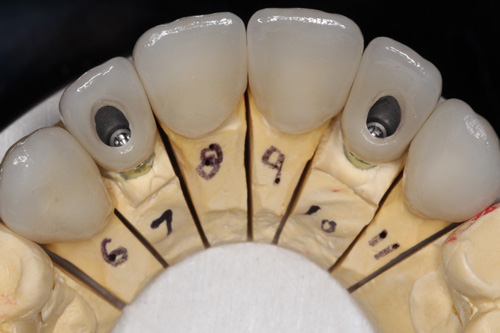 The implants fit convincingly in the patient's mouth and are virtually unnoticeable. It keeps the remaining teeth in their appropriate places and ensures proper bite and tooth alignment. It is important the implant can be placed on a strong supporting bone structure. If a patient has significant bone loss, the implants cannot be placed until the bone mass is increased to appropriate levels. This might increase the amount of time necessary to complete the multiple tooth implant procedure.
When the bone and gum tissue is healthy, it improves the rate of success with regard to restorative dentistry procedures. This is no different with a multiple tooth implant case.
Schedule A Consultation
If you need this service, please contact us at Periodontal and Implant Surgeons of Houston. You can call us at (713) 785-9599 to schedule an appointment to talk about the available options regarding a multiple tooth implant procedure to improve your oral health. You can also schedule your appointment online.